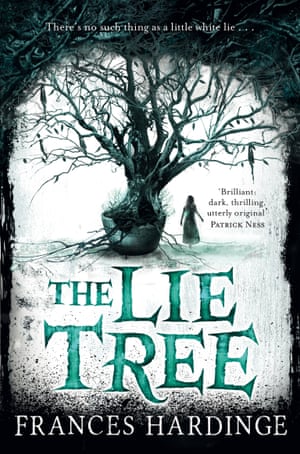 Frances Hardinge has won the 2015 Costa Children's Book Award with her book, The Lie Tree.
The Case for Loving: The Fight for Interracial Marriage by Selina Alko, illustrations by Sean Qualls and Selina Alko
Emmanuel's Dream: The True Story of Emmanuel Ofosu Yeboah by Laurie Ann Thompson, illustrated by Sean Qualls
Enchanted Air: Two Cultures, Two Wings by Margarita Engle
Enormous Smallness: A Story of E.E. Cummings by Matthew Burgess, illustrated by Kris Di Giacomo
Finding Winnie: The True Story of the World's Most Famous Bear by Lindsay Mattick, illustrated by Sophie Blackall
Funny Bones: Posada and His Day of the Dead Calaveras by Duncan Tonatiuh
Gordon Parks: How the Photographer Captured Black and White America by Carole Boston Weatherford, illustrated by Jamey Christoph
The House That Jane Built: A Story about Jane Addams by Tanya Lee Stone, illustrated by Kathryn Brown
Leontyne Price: Voice of a Century by Carole Boston Weatherford, illustrated by Raul Colon
Mesmerized: How Ben Franklin Solved a Mystery that Baffled All of France by Mara Rockliff, illustrated by Iacopo Bruno
My Name Is Truth: The Life of Sojourner Truth by Ann Turner, illustrated by James Ransome
Over the Hills and Far Away: A Treasury of Nursery Rhymes by Elizabeth Hammill and various illustrators
Poet: The Remarkable Story of George Moses Horton by Don Tate
The Sky Painter: Louis Fuertes, Bird Artist by Margarita Engle, illustrated by Aliona Bereghici
Small Wonders: Jean-Henri Fabre and His World of Insects by Matthew Clark Smith, illustrated by Giuliano Ferri
Swan: The Life and Dance of Anna Pavlova by Laurel Snyder, illustrated by Julie Morstad
Tricky Vic: The Impossible True Story of the Man Who Sold the Eiffel Tower by Greg Pizzoli
Trombone Shorty by Troy Andrews, illustrated by Bryan Collier
Voice of Freedom: Fannie Lou Hamer:The Spirit of the Civil Rights Movement by Carole Bostone Weatherford, illustrated by Ekua Holmes
Water Is Water: A Book about the Water Cycle by Miranda Paul, illustrated by Jason Chin
What in the World?: Numbers in Nature by Nancy Raines Day, illustrated by Kurt Cyrus (InfoSoup)
In this rhyming counting book, the concept of numerical sets is introduced. The book opens asking "What in the world comes one by one?" It then answers, explaining that the moon, your nose and your mouth come in singles. Then the book counts upwards, each time asking the question of what comes in that set and answering it. The book ends by looking up at the stars and the infinity of them. It invites young readers to start to think about the patterns in the natural world around them.
Day has created a rhyme that makes this book an engaging mix of poetry and science. As the rhyme dances along, the book will inspire conversation and thinking of more things that come in that type of set. The book is wisely limited to a coastal area where a young boy plays, dangling his toes and fingers in the water, sets of ten.
The art is simple enough to allow this book to be both a counting book and a book about sets. Smaller children will merrily count the nine spines on the back of a fish while older children will start to think about other things in their world that match the set. The digital art is bright colored, and cheery.
An engaging math book that can be read at different levels, this rhyming science book will be enjoyed by several ages of child. Appropriate for ages 3-5.
Reviewed from copy received from Beach Lane Books.