I've gathered a bunch of board books that are new favorites: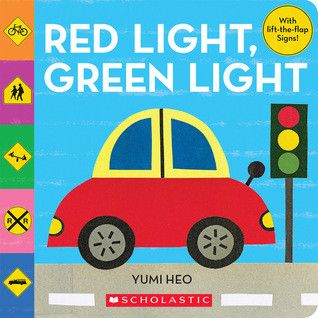 Red Light, Green Light by Yumi Heo
Ideal for the little one riding in a carseat behind you, this board book has traffic lights, stop signs, fire engines and anything else that little ones like about riding in the car. Lift the thick large flaps to see what the signs mean. The large bright pictures are inviting and there are plenty of opportunities to make noises and talk about driving in a car. This board book has sturdy enough flaps to survive public library life too.
Seasons Board Book Series by Ailie Busby
Coming out in October, this board book series has a lovely warmth about it, even in winter. Each book begins by talking about what clues you have when each season begins. There is later sun in the winter, early sun in the summer, leaves falling in the autumn, birds singing in the spring. Then in each season the children head outside and experience the weather and the season. The text is rhythmic and inviting. Expect to jump in crunchy leaves this fall after reading it with your little one.
What's That Noise? Series by Cocoretto
Another collection that is coming out in October, this collection mixes the jolly ruckus of lots of sounds with lifting the flaps and a guessing game. Each one begins with a noise, sometimes with a visual clue too of what is making that noise. Lift the flap after taking a guess. The books are in different themes of vehicles, animals, toys and instruments. These flaps are large and sturdy enough for little hands even in a public library.